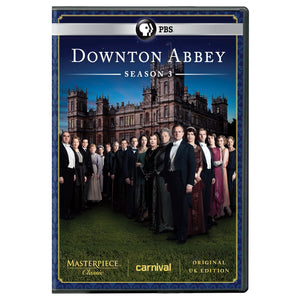 Masterpiece Classic: Downton Abbey Season 3 [DVD]
The Great War is over and a long-awaited engagement is on, but all is not tranquil at Downton Abbey as wrenching social changes, romantic intrigues, and personal crises grip the majestic English country estate for a third thrilling season. As other great houses are crippled psychologically and financially in the wake of World War I, Robert, Earl of Grantham, sticks to his duty to maintain Downton more firmly than ever. But in this changing landscape nothing is assured, and could it be that even the war-weary Crawleys must fight a new battle to safeguard their beloved Downton?

The returning cast includes Hugh Bonneville, Dame Maggie Smith, Elizabeth McGovern, Dan Stevens, Michelle Dockery, Jim Carter, Penelope Wilton, Joanne Froggatt, Brendan Coyle and a host of others, joined by Shirley MacLaine, who plays Martha Levinson, the very American mother of Cora, Countess of Grantham. Written and created by Julian Fellowes, Downton Abbey, Season 3 is a Carnival Films and Masterpiece co-production, in association with NBCUniversal.

Includes the Downton Abbey Season 3 Finale, "A Journey to the Highlands."
Condition: Slightly used.