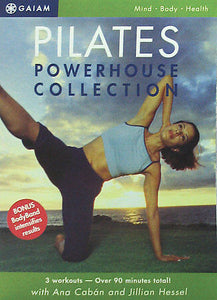 Pilates Powerhouse Collection (DVD, 2005, 3-Disc Set, Collection)
This collection gives viewers a well-rounded Pilates exercise program that will improve lean muscle, posture, and confidence. Ana Cabon and Jillian Hessel serve as capable hosts, starting at a beginner's level and proceeding through intermediate exercises. EASY PILATES, CARDIO PILATES, and PILATES POWERHOUSE WORKOUT combine for a 90-minutes routine that's easy to do correctly, yet so effective that staying motivated won't be a problem.ills.

Condition: Slightly used.