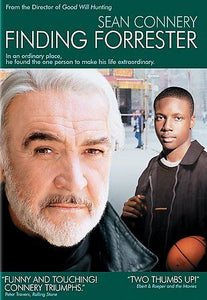 Finding Forrester [DVD]
Director Gus Van Sant brings to the screen this moving story of a grizzled recluse and an inner-city teenager brought together by their shared passion for writing. Like Van Sant's Oscar-nominated GOOD WILL HUNTING, FINDING FORRESTER earnestly explores the struggles of a youthful genius whose position in society (underprivileged kid from the wrong side of the tracks) makes him seem destined for failure until he forms a relationship with a gifted but introverted mentor who helps him see the light.The youthful genius is a talented urban basketball player named Jamal Wallace (Rob Brown), who in his spare time reads everything he can get his hands on, secretly scribbling prose and poetry into a composition pad. The introverted mentor is William Forrester (Sean Connery), who took the literary world by storm with his debut novel, AVALON RISING, 50 years earlier but now spends whole days shut inside his Bronx apartment looking out the window onto a basketball court where Jamal hangs out. Buoyed by excellent performances from Connery and newcomer Brown, FINDING FORRESTER paints a compelling, alluring portrait of friendship while offering intriguing insights into the heart and soul of the dedicated writer.
Condition: Slightly used.