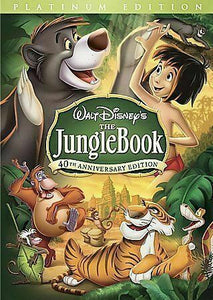 The Jungle Book [Two-Disc 40th Anniversary Platinum Edition DVD]
One of the most popular Disney films ever, THE JUNGLE BOOK is a song-filled celebration of friendship, fun, and adventure set in a lush and colorful world. Inspired by Rudyard Kipling's "Mowgli" stories, Disney's 19th animated masterpiece was the last animated feature that had Walt Disney's personal touch. The jubilant adventure begins when Mowgli, a little boy raised by wolves, is urged by his friend Bagheera, a wise old panther, to seek safety in the man village. Feeling very much at home in the jungle, Mowgli resists and runs off. Much to Bagheera's dismay, Mowgli meets a new friend with a happy-go-lucky philosophy of life -- Baloo the Bear, a lovable "jungle bum." Together, the three buddies find the journey back to civilization anything but civilized! They encounter a crazy orangutan, the hypnotic and sly snake Kaa, and the menacing Shere Khan! Fully restored for this 30th anniversary edition, this enduring classic swings with jazzy toe-tapping music, including the Academy Award(R)-nominated "The Bare Necessities," and the freewheeling "I Wan'na Be Like You"! A thrilling story for all ages, THE JUNGLE BOOK is an absolute necessity for your video collection.

Condition: Slightly used.