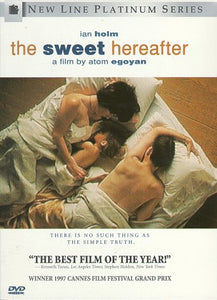 The Sweet Hereafter [DVD]
In synopsis "The Sweet Hereafter" may sound like a devastatingly unpleasant downer, but don't be discouraged. The real subjects of this luminous picture (adapted by director Atom Egoyan from Russell Banks's novel) are hope and renewal--avoiding the cheap emotions suggested by those clich?d terms. Like other Egoyan films ("Exotica", for one), it's an intriguing sort of mystery, a puzzle in which the big picture is not revealed until the very last piece is in place. A metropolitan attorney (Ian Holm) travels to a small British Columbian town where 14 children have been killed in a school bus accident to prepare a class-action suit. With sensitivity and empathy, he approaches relatives with promises that the suit will give focus and closure to their grief. And as he investigates the circumstances of the accident, he not only uncovers a few local secrets, but dredges up some painful pieces of his own past. Slowly, deeper mysteries are revealed--eternal mysteries at the very heart of human nature: Who is to blame for a tragedy like this? And why do people feel such a need to assign blame? Is that how they give meaning to otherwise inconceivable events? How does one reassemble a shattered life? "The Sweet Hereafter" is too honest to offer bromides, but it shows how a few people struggle, as best they can, to answer these questions for themselves. "--Jim Emerson"

Condition: Slightly used.