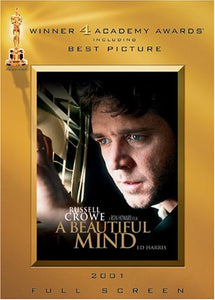 A Beautiful Mind (DVD)
Winner of 4 Academy Awards, including Best Picture, A Beautiful Mind is directed by Academy Award winner Ron Howard and produced by long-time partner and collaborator, Academy Award winner Brian Grazer. A Beautiful Mind stars Russell Crowe in an astonishing performance as brilliant mathematician John Nash, on the brink of international acclaim when he becomes entangled in a mysterious conspiracy. Now only his devoted wife (Academy Award winner Jennifer Connelly) can help him in this powerful story of courage, passion and triumph.

Bonus Content:

Feature Commentary with Director Ron Howard

Feature Commentary with Screenwriter Akiva Goldsman

Deleted Scenes with Director's Commentary

Production Notes

Cast and Filmmakers

DVD-ROM Features Including Total Axess

A Beautiful Partnership: Ron Howard & Brian Grazer

Development of the Screenplay

Meeting John Nash

Accepting the Nobel Prize in Economics

Casting Russell Crowe & Jennifer Connelly

The Process of Age Progression

Storyboard Comparisons

Creation of the Special Effects

Scoring the Film

Inside A Beautiful Mind

Academy Awards

Trailer

A Beautiful Mind Soundtrack

Now Showing
Condition: Slightly used.