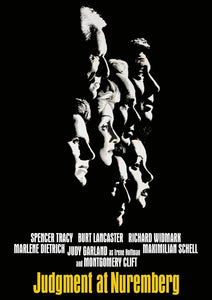 Judgment at Nuremberg (DVD)
The event the world will never forget! Winner of Two Academy Awards including Actor in a Leading Role (Maximilian Schell, The Black Hole) and nominated for eleven Academy Awards, including Best Picture Judgment at Nuremberg is a magnificent achievement in filmmaking, boasting brilliant performances by an all-star cast. American judge Dan Haywood (Spencer Tracy, Inherit the Wind) presides over the trial of four German jurists accused of legalizing Nazi atrocities. But as graphic accounts of sterilization and murder unfold in the courtroom, mounting political pressure for leniency forces Haywood to make the most harrowing and difficult decision of his career. This masterpiece, considered by many as one of the greatest films of all time was directed by the great Stanley Kramer (On the Beach) with a stupendous cast that includes Burt Lancaster, Richard Widmark, Marlene Dietrich, Judy Garland, Montgomery Clift and William Shatner.
Condition: Slightly used.